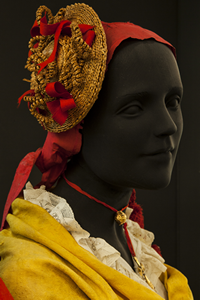 Local ethnography items, collected in the region called Lunigiana storica, were gathered by Giovanni Podenzana starting at the beginning of the 20th Century.
Podenzana, following the example of Lamberto Loria who focussed on Italian folk traditions, started his research in Ugliancaldo, a small hamlet where life and economy passed unchanged through centuries. In fact, mountain villages adopted social and economic changes less quickly than bigger towns and cities. In the following years, Podenzana increased the range of his research including the higher part of the Aulella Valley and the Lunigiana area.
Podenzana tried to collect beautiful objects, or rather, decorated and ornamented objects that witnessed an artistic and aesthetic sense of the working class: the aim was not easy, considering the types of objects and their use. Consequently, he focused on personal items, feminine clothes and accessories, more refined than agricultural tools.
Each piece, classified, was grouped considering its purpose:
- agricultural and oggetti inerenti all'agricoltura e alla pastorizia;
- hunting and fishing tools;
- working tools;
- weights and measures;
- household tools;
- house furniture;
- weaving tools;
- costumes, accessories and fabrics;
- personal ornaments;
- personal use objects;
- music instruments;
- ritual objects;
- toys.
The collection became famous all over Italy: in 1924, it was partly displayed in Genoa during the 9th Italian Geographic Congress; in 1928, folk costumes from Biassa, La Spezia, Riomaggiore and Sarzana paraded in Venice, one year later in Rome and during the mid-1930s in Montecatini and Pisa.
Among the many temporary exhibitions during the last thirty years, the most important are:
- Blu Blue-jeans. Il Blu popolare, Genoa, Palazzo San Giorgio 25 November 1989 – 14 November 1990;
- Jeans! Le origini – il mito americano – il made in Italy, Prato, Museo del tessuto 22 June – 30 November 2005;
- Fili di Liguria: l'arte della tessitura dalla seta al jeans, Camogli, Abbazia di San Fruttuoso 3 April – 30 September 2010.